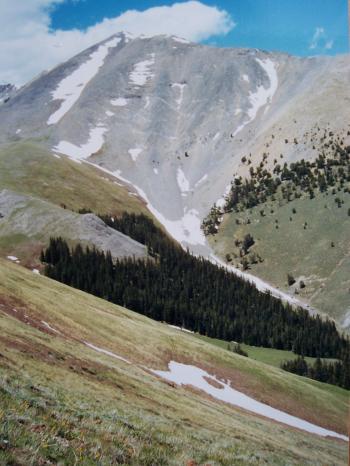 Apex Peak. Photo by Rick Baugher
You'll need a map to visualize this. Apex Peak is the high point of a large inverted triangle of mountainous country on the backside of the Lost River Range. The three sides of this triangle are Burnt Creek, Donkey Hills, and Dry Creek. The Leatherman Peak quad doesn't show a summit elevation, so take your choice of 11220'~ or 11200'+.
On 7/4/99 I used a northeast approach, saw lots of elk, but found no sign of prior summit occupation.
Another name sometimes used for this elegant mountain on the Great Lost Divide is Lopez Peak. In the '70's Tom Lopez, the Idaho guidebook author, built fenceline for the BLM in this general area, and has always had a special place in his heart for the eclectic LRR backside.
I know this because I'm a charter member of Tom's little group 'Lost River Climbers, Clyde, Idaho', and still have the T shirt to prove it !

Northeast side of Apex Peak looking across the head of East Burnt
Creek, 7/4/99.

Rick Baugher

April 1, 2008