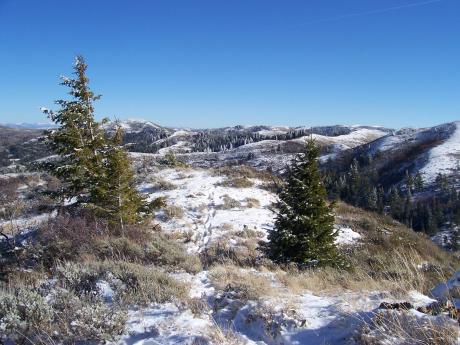 Birch Creek Mountain, photo by Rick Baugher.
The Blackfoot Mountains are mostly in Bingham County, Idaho, and lie east of the town of Blackfoot and SSE of Idaho Falls. In my most humble opinion, the timbered areas should have been designated national forest, but, in the earliest years of the 20th century President Theodore Roosevelt and his Chief Forester Gifford Pinchot had bigger fish to fry. By the time these public lands were surveyed in 1912, 300 families had filed under the Homestead Act. Today,while most of the settlers are gone, the legacy is that there is little or no public access to the high country of the Blackfoot Mountains.
In any event, here are the principal 7000' peaks that contribute to the pleasant scenery of this 25 mile long range:
Blackfoot (Blue Mountain) 7550' Range HP, Bingham Co HP
Birch Creek 7486'
Double W 7406'
Taylor 7404'
Triple Divide (3D) 7400'+
Paradise 7400'+
S. Seventy 7362'
N. Seventy 7185'
View E to Birch Creek Mountain
The Blackfoot crest from Sunnyside Road, over Birch Creek Mountain, to the Double W Pass has been mountain biked. A surreal night time winter ski tour in this area can have northern lights glowing above, and Idaho Falls city lights twinkling below, while coyotes howl from all directions.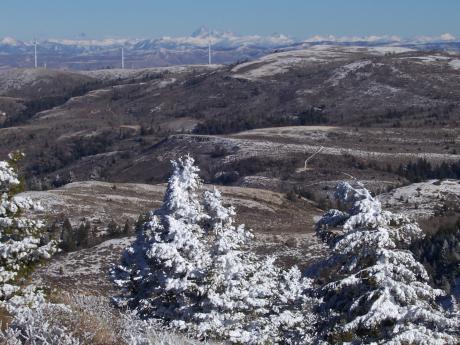 The Tetons, photo by Rick Baugher.
North of Taylor Mountain the view to the Teton Range is marred by dozens of gigantic wind turbines. Wind power may be needed, but on the Idaho Falls skyline? Pulleez, not in my backyard!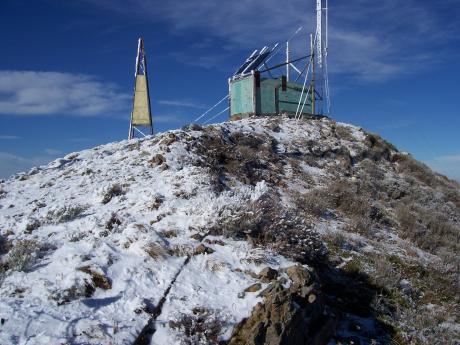 Summit of Taylor, photo by Rick Baugher.
The tip top of Taylor, showing the old FAA communications facility
There's an old guy from Idaho Falls who says he's climbed Taylor almost 50 times- hiking, running, snowshoeing, skiing. Says his best 'House to Summit' round trip time is just under 4 hours. If you live in Idaho Falls this is your nearest, most visible mountain. Obsidian arrowheads found near this summit indicate neolithic hunters were once here.
The premier race in the Blackfoot Mountains is the 'To Bone and Back' 40 miler. This ultramarathon derived from the 'Charley Horse Race' staged in the '80's. Chuck Ferguson, on foot, challenged an equestrian colleague to race from IF to Bone, Idaho, and back. Amazingly, Chuck almost won.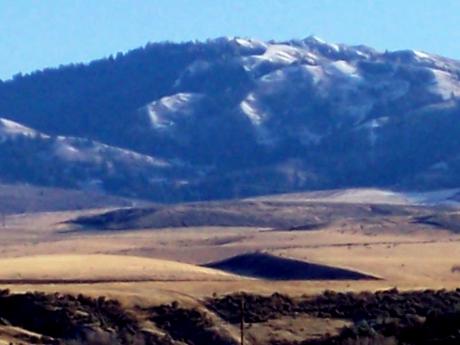 Taylor Mountain, photo by Rick Baugher.
View S to Taylor Mountain
Rising above dry farms, the north face of Taylor Mountain has a nice Douglas fir forest on left. On right is the bowl of the old Taylor Mountain Ski Area, which closed to the public in 1982.
Rick Baugher
Photos 11/16/09