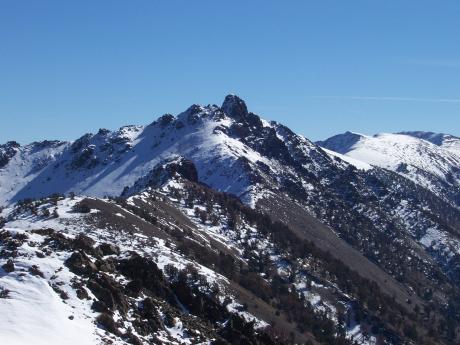 View ESE to Copper Basin Knob, photo by Rick Baugher
Copper Basin Knob el 10784' is distinctive enough to have a USGS quadrangle named for it. This eye catching rocky knob at the southern end of Copper Basin was surveyed in 1914 by USGS Topographical Engineer T.M. Bannon. Bannon's field notes are enigmatic in that this particular triangulation station was listed as "not occupied". On a summit like this Bannon typically would have made a station mark such as a chiseled cross, a stone or wood monument, or an inscribed metal benchmark tablet. Instead, the Copper Basin Knob station mark was described as "none".
So then, did Bannon and/or his Recorder climb to this summit? I think yes, because his notes further record the required minimum of 3 azimuth angles. From here he sighted stations Porphyry, Shelly, and Smiley. My guess is that he was hastily driven off the summit by a storm coming in from the west, leaving no time for the luxury of erecting a station mark.
As a result of Bannon's work, the Lemhi National Forest map of 1918 locates Copper Basin Knob on a planimetric grid.
The first topographic map of this area was published in 1940 as the Mackay 30 minute quadrangle. The Knob is shown with an elevation of 10778', but not named. The record of any ascent is inconclusive. Lee Morrison, Max Gleissner, S.C. Kain, and others did the topographic work in this section overflowing with mountains.
Rick Baugher 10/15/07.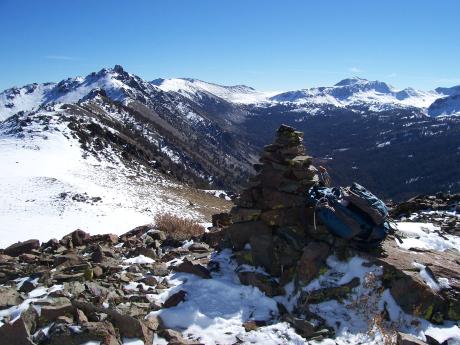 Copper Basin Knob, photo by Rick Baugher


Here's a wider angle showing the southern Pioneer alpine country SE of Copper Basin Knob. Left to right, and rimming Lake Creek Basin, are Double U Mountain el 10995' (the highest 10'er wholly within the state of Idaho), Ramp Mtn 11151', and Smiley Mtn 11508'. Both photos are from Roundup Peak el 10225'. On 10/15/07 this cairn was built to celebrate a pristine summit. Behind me, down in Copper Basin, cowboys were finishing their traditional Fall livestock roundup.
From Rick's log book, 8/27/2000:
"From cattle exclosure on Charcoal Creek el 8200' hike south on cattle trail. Saw 2 elk. Enter alpine zone, climb steep class 2 headwall to gain west ridge at 10300'. Looked for 2 knobs as topo map showed, but only one exists. It's higher and steeper than map shows. Climb a 100' face, finding solid volcanic dacite rock with a zig zag ramp having good hand & footholds. Emerge on Copper Basin Knob 10874+ summit. Found no register and a stack of 3 rocks. David Ferguson said he climbed this peak. Built a small cairn and left a register."