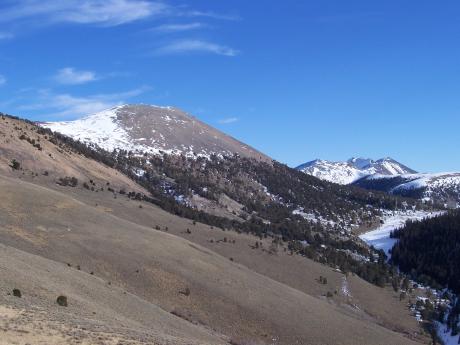 Diane's Mountain, photo by Rick Baugher
View SE up Willow Creek, on the Idaho side, Beaverhead Mountains. These Continental Divide peaks, shared by Idaho and Montana, are L to R: Dianes Mountain 10404', Willow Creek Peak 10340'~, Tuscany Peak 10776', Italian Peak 10998'. 11/6/07.
Whenever going up Willow Creek, three things stick in my mind:
1) Humans came here to hunt a long time ago. An arrowhead found near one of the summits has an estimated age of 950BC-1450BC.
2) When on the CD I will be following in the footsteps of the epic 1904-06 Idaho-Montana Stateline Boundary Survey. Headed by Howard B. Carpenter, iron post markers were placed at approx. one mile intervals for over 650 difficult serpentine miles. For an example of one, see the MP 565 marker in Rob's photo 1742 from the summit of Cottonwood Peak.
3) Diane Palmer and I were born within 2 days of each other. She died in infancy and her windswept grave is not far from here. Today her spirit will come to the mountaintop with me.

Rick Baugher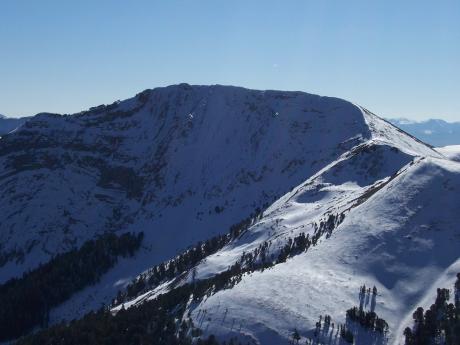 Diane's Mountain, photo by Rick Baugher
Diane and I visited her peak 14 years ago. Today's objective was to find the best view of it. Here we look S to Dianes Mountain, from 10201' Tendolia Peak in Montana, 11/6/07. Rest In Peace sweet child.

Rick Baugher