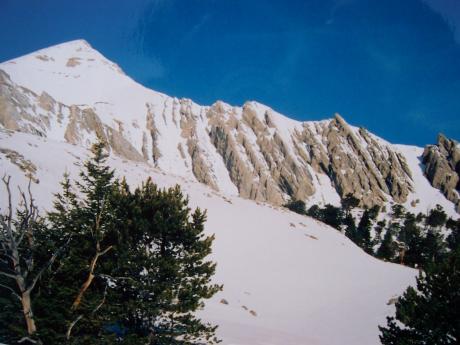 View W to Horseheaven Peak el 10878', from Cayuse Canyon, 5/14/05.
P hoto by Rick Baugher
Horseheaven Peak el 10878', on the Borah Peak quadrangle, only carries 418' of prominence. Viewed from Doublespring Creek this limestone mountain presents an imposing image that far exceeds its meager prominence.
On 5/14/05 I skied the peak, but to do so spread my toys out all over the Lost River Range. Parked the pick up on Doublespring Road.
Motorcycled to 7940' Horseheaven Pass ( I was the first one of the season to make it to this pass on a wheeled vehicle). From there, hiked, then snowshoed up Cayuse Canyon. Cached snowshoes and light hiking boots in favor of plastic boots, skis and skins. After a nice quick run off the top, began the re-accumulation process. And all this effort for one, albeit memorable, ski run.
Rick Baugher

May 3, 2008