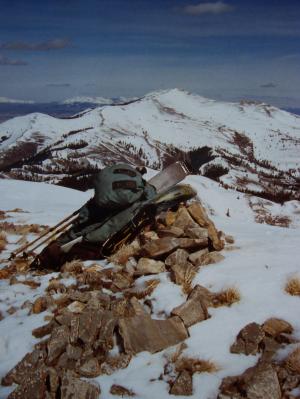 From the Paleozoic limestone summit of Hudspeth Peak this view is NE to Deep Creek Peak. Photo 3/30/03 by Rick Baugher
Persons interested in climbing the Peaks of Power County Idaho will be drawn south of American Falls to Rockland Valley. From Interstate 86 head south on Idaho Highway 37. As this road drops down to Rockland the NW face of Hudspeth Peak in the Deep Creek Mountains will rise up out of the desert valley ahead of you. If it's late winter/ early spring this face will be a wall of white, and for me the siren call to ski it was irresistible.

On March 30, 2003 I drove 100 miles from Idaho Falls to the well graded Big Canyon Road, southeast of Rockland. At the base of the Deep Creek Mountains the road became muddy for one mile before reaching an abrupt snowpack. Continued E up Big Canyon, then skinned up a north facing lateral canyon, finishing with a 200 yard rock scramble to Hudspeth Peak, elevation 8437'. With a prominence of 1257' this is the second highest peak in the Deep Creek Mountains, and also in Power County. Deep Creek Peak el 8748' is the parent.

The nature of the ski descent involved a pleasantly steep downhill shot in heavy wet snow, followed by a long traverse to avoid a brushy canyon bottom. Skiing ended at 6400'.
From the Paleozoic limestone summit of Hudspeth Peak this view is NE to Deep Creek Peak. Snake River Plain and The Putnams are visible in the distance. As far as I can tell, this is the only point of land where Idaho Falls can be seen in one direction, and Great Salt Lake in the other. Searched for, but couldn't find, signs of prior summit visitation. Placed this small cairn and left a note on 3/30/03.

Note to gear heads: Holstered in my pack is a pair of Rossi Free Venture blades with skins attached. These 99cm shorty skis look like a toy, but are an amazingly effective tool under a variety of conditions. They occupy a revered spot in my ski arsenal.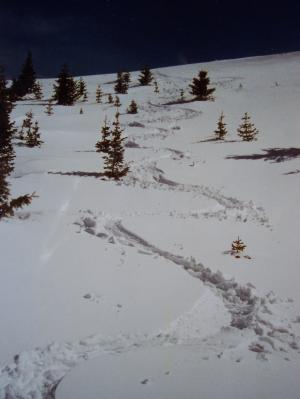 NW face Hudspeth Peak , photo by Rick Baugher, 3/30/03
I was just wrapping up a season of skiing over one million vertical feet at Grand Targhee, and was getting royally tired of the yo-yo scene. This lonely ski descent in the middle of southern Idaho nowhere lifted my sagging spirits.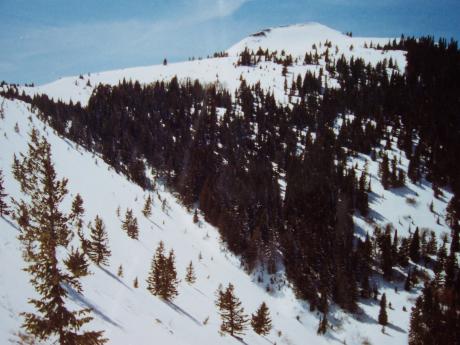 View S to Hudspeth Peak el 8437', photo by Rick Baugher, 3/30/03
. This mountain is on the Great Basin-Columbia Divide. The dense dark stands of Douglas Fir are sometimes referred to as black pine. It's all public land, managed by the State of Idaho and BLM.

The suggested peak name is meant to honor Benoni Hudspeth (1816-1850), a Missourian who pioneered an immigrant wagon route near here in 1849. Hudspeth's Cutoff left the Oregon Trail near Soda Springs and met up with the California Trail in Raft River Valley. The cutoff was a difficult route as it hugged the Great Basin-Columbia Divide. Much of southern Idaho still has the feel of pioneer country.