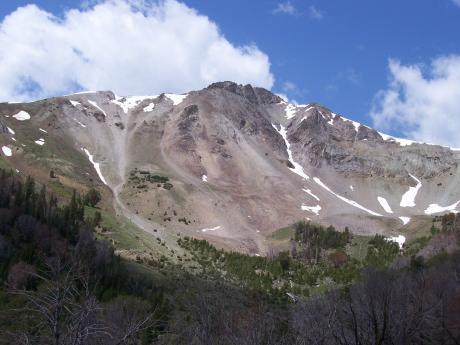 View SW to Mount Rearview el 10860'~, prominence 480'~, from East Pass Basin.. Photo by Rick Baugher.
Mount Rearview.
Mount Rearview el 10860'~ is a bold Boulder summit that is timid about making its presence known. Examine the Ryan Peak quad. This mountain which divides West Pass Creek and East Pass Creek shows no name, no elevation, no trail; just a bunch of tight, ragged contour lines.
I first became acquainted with Mount Rearview on 9/4/94 while standing on the summit of 11057' Griswold Peak 1 1/2 miles to the south. I could feel my jaw dropping. One glance at the peak's defenses and I quickly put it in my rearview mirror.
Fast forward to late summer 2008. I caught a more studied view of this mountain from the Bowery along East Fork Salmon River, and by the way, the only roaded area from which this peak is visible. Maybe it would be worth a shot, but not from the Bowery side.
On 7/14/09, after many months of anticipation, I got to the Hunter Creek trailhead (watch for quicksand if the meadow is wet). This is on the North Fork Big Lost River side. The streams were fully charged, but a good trail goes over 9400' Hunter Creek Summit and drops down to East Pass Creek. Cross country into the basin NE of the peak. I opted to go up the grungy steep headwall in order to ascend Rear's north ridge. The rock is rhyolite, not the best stuff to climb on. Coming off the top, I downclimbed the easier SE ridge, then followed the grassy slopes downward back into East Pass Basin, for a nice traverse.

My timeline target was to do this in 8 hours, and thanks to mild weather and favorable conditions, made it with 15 minutes to spare.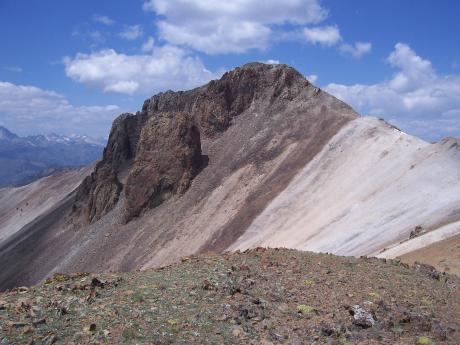 South side of Mount Rearview. No sign of prior human visitation was found on this mountain. If one were to ask how many higher unclimbed peaks remain in Idaho, my guess would be 3. Photo by Rick Baugher.