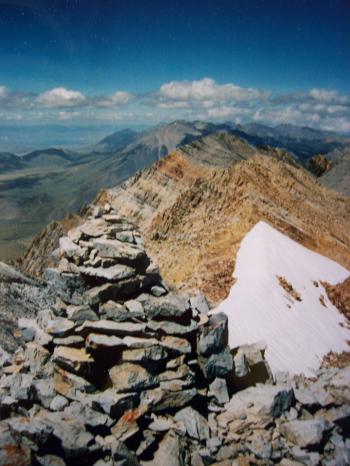 The view from Mt. Morrison. Photo by Rick Baugher
You could call Mount Morrison at elevation 11367' an outstanding peak. Located west of the Lost River Range main crest, this is a mountain that stands out. From Mackay Reservoir to Willow Creek Summit the climber/driver on Highway 93 is challenged to keep his eyes on the road and not try to find lines up Mt. Morrison's broken cliff faces and gullies.
From 1924 to 1935 the USGS Topographer Lee Morrison made maps in the Idaho mountains and is credited with doing topographic work on the following 30 minute maps: Casto-1924, Bayhorse-1927, Irwin-1930, Borah Peak-1934, Mackay-1935. Around 1929 Morrison computed Borah Peak's elevation at 12655', and thus identified it as the highest peak in the state of Idaho. A 30 minute map covers a lot of area, the same as sixteen 7.5 minute quads, so it would be safe to estimate that in the course of his work
Lee Morrison climbed over 100 Idaho mountains.

On 8/22/93 I climbed up and around 'Gully 3'. This is the third gully
from the south on Mount Morrison's west side, the one leading directly to the 11367' true summit. Thank goodness it was dry. I hate
'slimestone'. The reward was a pristine, untouched top. A cairn and
memorial to Lee Morrison were placed. From here, the view across to Borah Peak is stunning. This 8/22/93 photo looks NW to some of the lower points on Mt. Morrison's summit ridge, then on to the Pahsimeroi peaks.

Rick Baugher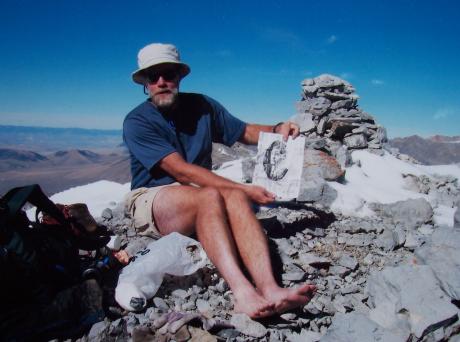 David Ferguson on Mt Morrison, photo courtesy of David Ferguson
The Agony of Da Feet
On 10/13/06 David Ferguson climbed the east ridge to Mt.
Morrison's summit, and sent me this photo of himself. To my amazement the portrait of Lee Morrison he's holding, as well as my summit cairn, were still there.
David is a story in his own right. Over a forty year period David has
climbed many of Idaho's hardest peaks. He uses the Tom Lopez guidebook as a checklist, and the book is full of checks. He was one of the first to climb all nine Idaho twelvers, and could also be called a
Borah Peak Specialist, having climbed that mountain in every month of the year. Going out of state, he has climbed all the Colorado
Fourteeners, and has hiked the length of the Pacific Crest Trail. To
celebrate nudging age 70, David climbed over 100 peaks in 2007. Who's ready to retire?

Article by Rick Baugher