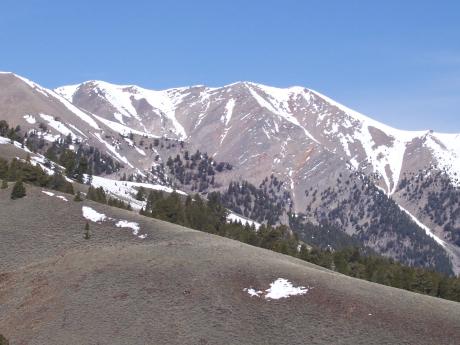 View NW to North Mass el 10824' in the Lost River Range. Photo by Rick Baugher, 5/2/07.
It took 10 years for North Massacre Mountain el 10824' to appear on my radar. Having done Massacre Mountain el 10924' in 1997 I gave no further thought to the limestone and tundra ridge extending 4 miles to the north. However, in Springtime, if you happen to be in the upper part of Little Lost River Valley, say in the Clyde area, take a look to the backside of the Lost River Range. The first high peak to catch your eye, the one with the elegant extending snow tongues, is North Massacre Mountain. It has "climb me" written all over it.
So, waiting for a nice stretch of dry weather, I motorcycled in 12 miles from the Pass Creek Road, past Buck Springs. The hike, heading south, involved some post holing ( I am an accomplished Phd= Post hole digger ). Once out of the trees, the 2+ mile stretch of tundra ridge was mostly blown free of snow. Along the way, at a small 10300' saddle there is a water tank (guzzler), placed for big game, and near it a couple of spent rifle shells. For the next 1+ mile to the 10824' summit of North Mass there were no other signs of human visitation. On top, I played the usual game of identifying surrounding summits, spotted a couple of new ones to climb, then reflectively built a cairn and left a register on this pristine summit.
Hope you enjoy the perspectives on these 5 photos, and if you're into classic Idaho solitude, consider making this peak a destination.

Rick Baugher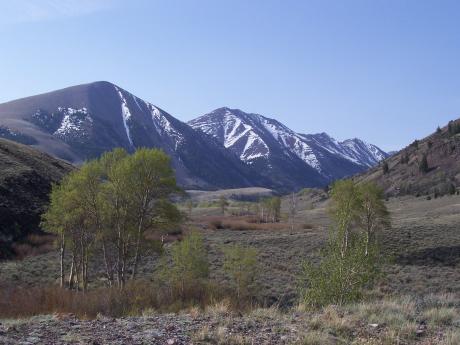 Cushion Draba, photo by Rick Baugher


View SE from Long Lost Creek. North Mass with a prominence of 364' is the peak in center. The parent, Massacre Mountain 10924', is on the far right.
Rick Baugher, photo date 5/18/07.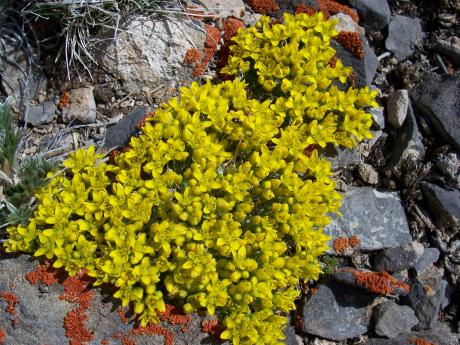 Cushion Draba, photo by Rick Baugher

Cushion Draba, a circumpolar alpine flower, is an early Spring bloom
on Massacre Mtn. It brings cheer to an otherwise raw and blustery
ridgeline.
Rick Baugher, photo date 5/16/07.