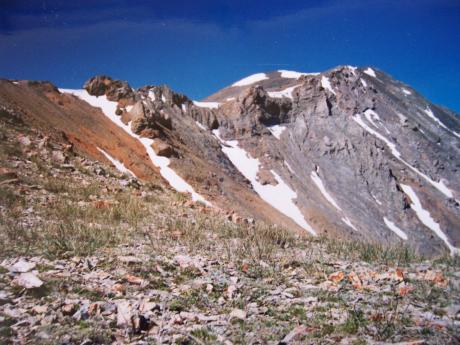 View along the northeast ridge toward Pavlos Peak, 7/10/93. Rick
Baugher photo.
Pavlos and Petros

Pavlos Peak el 11109' is the second highest summit in the Pahsimeroi section of Lost River Range. To its west is the companion summit Petros Peak el 11040'+. Both head a branch of Christian Gulch. Using the analogy of Christianity, Saint Paul, or Pavlos as he called himself in Greek, was associated with development of churches in the east. Saint Peter, or Petros (The Rock), had a better known affiliation with the church of the west- Rome.
On 7/10/93 I ascended the full northeast ridge of Pavlos and found its shaley summit to be pristine and untouched. Built a cairn and left a note under horn coral fossils. In the tradition of Pavlos at the Areos Pagos Hill in Athens, I considered preaching a sermon from the mountain top, but no one was there to listen.
The previous season, on 10/24/92, went up Petros to shoot the video titled "Petros of the Pahsimeroi". That summit too, was found untouched. Later, in a conversation with Tom Lopez I learned that he and Dana summited in the Spring of 1992. Asked why he didn't build a cairn, Tom said the top was heavily snow covered. So, be sure and give the Lopez's credit for this one.
On 5/25/07 David Ferguson and Steve Grantham did Pavlos via its NE ridge, descended south, then ascended 1700' to Petros by its south ridge, doing both in a long day.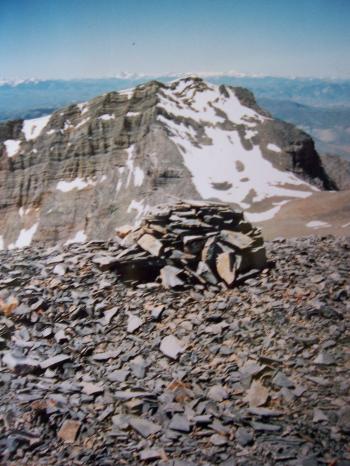 Petros Peak. Rick Baugher photo.
From the shaley summit of Pavlos Peak this view is west to Petros
Peak on 7/10/93. Am not aware of any direct highline traverse of these two being done.

Information and photos by,
Rick Baugher
April 23, 2008