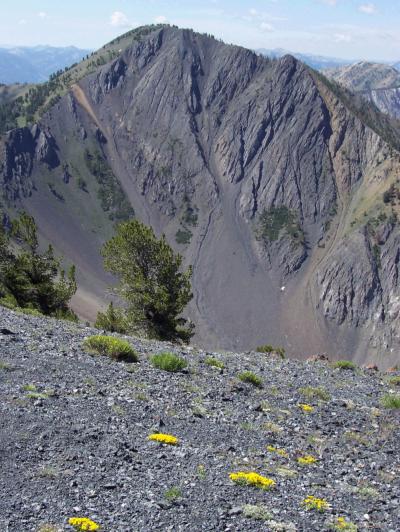 View S to P1 el 10181' on 7/30/09. Photo by Rick Baugher.
Pole Creek Summit

Pole Creek Summit el 8500' is a rough roaded pass in the southern White Cloud Mountains. For those wishing to add several near 10000' peaks to their list, this is a good place to explore. Having recently completed the peaks in this immediate area (see Horton Peak quad) I wanted to learn some history. The Hailey, Idaho, Public Library houses the collection of pioneer photographer Martyn Mallory (1880-1936). Piecing together Mallory's outdoor exploits is tricky because his photos aren't dated. However, he did document coming over Pole Creek Summit in a wagon, in snow, en route to taking what is probably the first photograph of Castle Peak, ca 1920.
This country is known to miners, sheep men, hunters, and now ORV users. Here's what's in it for the peak bagger:
To the west of Pole Creek Summit are the three Pole Creek Peaks. Taken together, they make a nice trialless day hike. From north to south: P1 el 10181', P2 el 10041', and P3 el 10166'. On 10/16/02 I placed cairns on these three summits, while bootmarks from hunters were found in the saddles.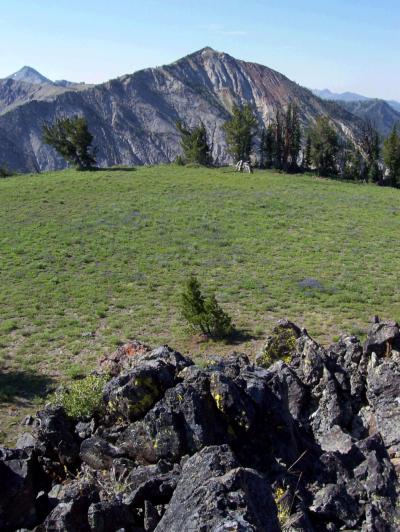 View from the top of Consolation Peak el 9627'. Photo by Rick Baugher.
This view from the top of Consolation Peak el 9627' (prom 767') looks south beyond the summit terrace to Grand Prize Peak, with Gladiator Peak on left. From Pole Creek Summit be prepared to bushwack through a dense, steep stand of spruce/lodgepole to get here. Stand may be too nice a word. Much was down. I'd have quit if it were wet. Cairn placed 7/31/09.