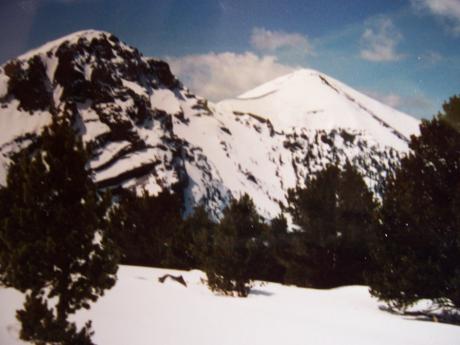 Old friends dressed in winter white. Dome Peak el 10475' (L), and
Whitebird el 10502' (R), from near Headpin, 5/1/93, photo by Rick Baugher
Where the Shrill Wind Blows

Mountains are like the stock market. They both have peaks and valleys. There always seems to be something bigger and better on the horizon. Hope springs eternal.

On 5/1/93 I had a successful ski ascent into the Lemhi Range. Along the way I'd gotten to see some old friends dressed in their best winter white. My destination,'The Headpin' el 9860', was an almost untouched summit, and the prize was the glorious headwall of South Fork Eightmile Canyon. But one thing nagged. There was the nearby enticing Shril Peak el 10690'. I had to come back and ski its north slope. If Headpin was great, Shril would be better.
Alas, not so. On 4/16/00 I snowshoed up Shril's north slope. Upon reaching the summit I was greeted with a sickening sight. To the south a cyclonic storm front had enveloped the range crest, and it was headed my way. As quick as possible I packed the snowshoes and clicked into my skis. After about a dozen turns the fury of the storm hit. Wham! Like a freight train. Screaming wind, horizontal snow, whiteout, vertigo. Somehow, I managed to cross Metta Basin flat and find my way down into the trees. The day ended wet, cold, and muddy. My safety margin had worn thin..... Anybody wanna climb a mountain?

Rick Baugher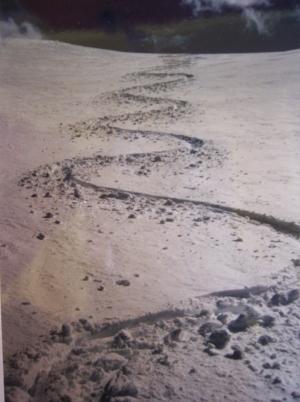 Hero snow. South Fork Eightmile headwall, 5/1/93.
Hero snow. South Fork Eightmile headwall, 5/1/93.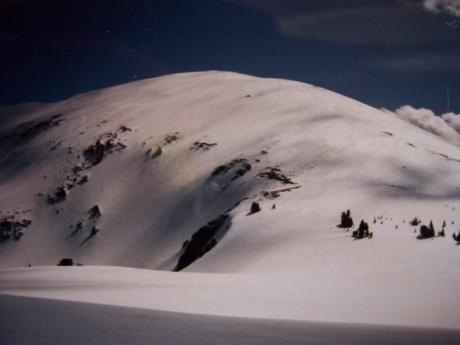 North side of Shril Peak, photo by Rick Baugher
The enticing north side of Shril Peak. The south and east sides of
this mountain are cliffs, 5/1/93.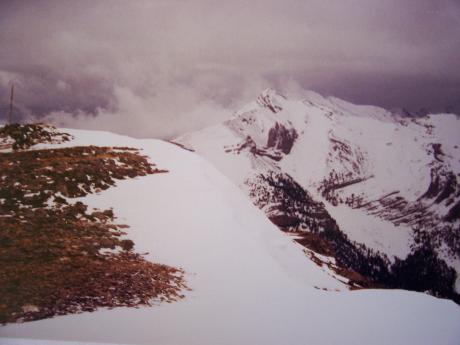 Summit of Shril Peak, photo by Rick Baugher

Summit of Shril Peak el 10690', looking south to Tyler Peak, just
before the storm hit, 4/16/00. On the left is part of the 1956
triangulation signal used in conjunction with mapping the 15 minute
Diamond Peak topographic map. These surveyors used the name Shril in honor of George Shril, an early miner in the Dome District. In the 1940's the mountain was also called Striped Peak.

Rick Baugher

Feb 25, 2008