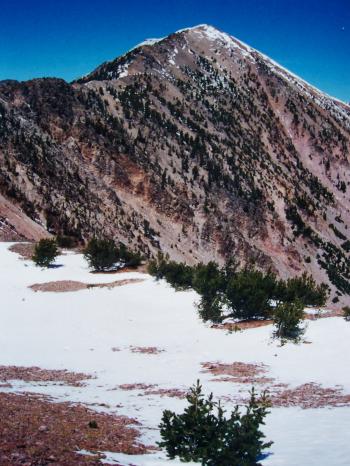 View North to Burnt Tater, elevation 10,349'. Rick Baugher photo.
South of Hi

The 100 mile long Lemhi Range can feel like three mountain ranges rolled into one. Each of its sections- the north, the central, and the south- exhibits its own special character. Wildest of all is the north. The two peaks profiled here are the southernmost ten thousand footers of the north.

Burnt Tater el 10349' heads Tater Creek and is the first main crest summit south of May Mountain. This peak can be approached from Morse Creek where a sketchy trail climbs NW out of the canyon bottom. Pass through a sizeable burn area full of char blackened tree snags, not a good place to be on a windy day. The south ridge to Burnt Tater is reached at Point 10077', aka Tater Tot. A true wild northern Lemhi summit, Burnt Tater showed no prior sign of summit visitation on 9/9/01.

At first I was in a state of denial about Paramor's existence. With
no guidebook reference, no name, and no trails, there just shouldn't
be a peak with over 1000' prominence between May Mountain and Mogg Mountain. Maybe this 10263' peak that heads Paradise Creek and the Morse drainage would quietly go away. It didn't. My paramour just got in my face. From Upper Pahsimeroi Valley the sight of her captivated me to the near exclusion of all other peaks. I had to come to terms with this untamed Lemhi lady.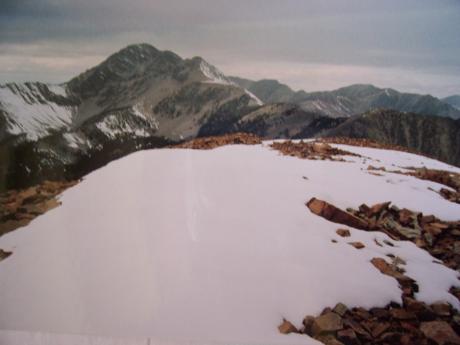 View NW to May Mountain. Rick Baugher photo.
View NW to May Mountain from the virgin Paramor summit, 10/19/05.

Commentary and
photos by Rick Baugher

April 18, 2008
Rick Baugher