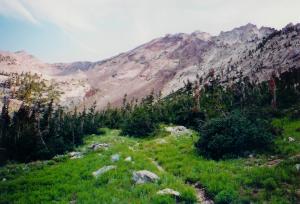 The Box and Johnstone Pass on the far right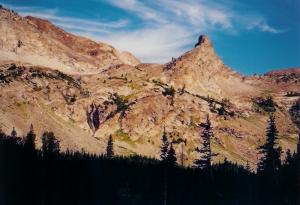 Witches hat or the "Little Matterhorn" that you see hiking the trail toward Johnstone Pass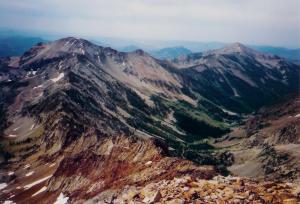 East Fork of the Wood River from the Box. Connecting ridge leads to Johnstone Pass. Grays Peak in the distance.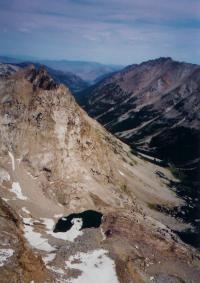 Lake 9790 and Wildhorse Canyon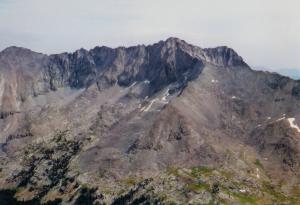 Brocky Peak from The Box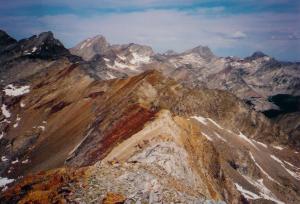 Old Hyndman, Hyndman, Duncan's Ridge, Goat, and the Devil's Bedstead East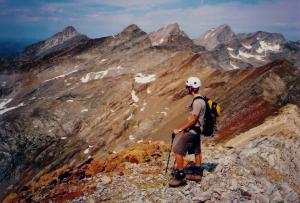 on top with Cobb, Big Basin Peak, Old Hyndman, and Hyndman in the background
The Box's southwest face is class 3
Photos by Tad Schafer
Peak 11,305, also known as "The Box" sits between the head of the East Fork of the Wood River drainage to the west and Box Canyon to the east.
One route provided by Tom Lopez describes climbing the summit from Johnstone Pass. Rick Baugher describes climbing it from Upper Box Canyon Lake and then descending into the East Fork drainage via a granite gully, aiming for a string of trees. We chose this route to ascend and descend.
Access to the trailhead is via the East Fork Wood River Road (FS-118). Turn east off ID-75 4 miles south of Ketchum and 6 miles north of Hailey. Past the town of Triumph, take the right fork (the left leads to Hyndman Creek) and follow the dirt road. The road deteriorates into a rough 4wd road. Follow the road to its end.
Follow the trail toward Johnstone Pass. Leave the trail as it begins its steep ascent toward the pass. Follow the drainage staying above the creek, climbing through talus. Stay below the cliff bands and aim for a string of trees high up in the drainage. Once at the trees, look for a solid granite gully and ascend the gully. We chose to leave the gully for its high flank. Climb loose talus straight to the summit.
On top look down into Wildhorse Canyon to the north. Brocky Peak will be to the east. The combination of Cobb, Big Basin Peak, Old Hyndman, Hyndman, Duncan's Ridge, and Goat will be to the west.