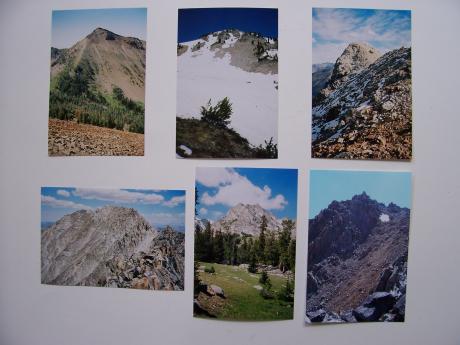 Photo by Rick Baugher
As far as Idaho ranges go, the Pioneer Mountains, it is said, have it
all. One thing they have in particular is no lack of reclusive summits.
Which one is the Shyest Pioneer? You decide for yourself. Before
voting, here are 6 candidates to help stretch your vista.
L to R from top, and roughly west to east on the map, (earliest known ascent dates are included for those interested in such things).

SV PEAK el 10419' Super View to Sun Valley, 8/11/05
PAYMASTER PEAK el 10292' From this summit Big Basin roars and reverberates during spring runoff, 6/5/06
LOWER BOX el 10391' This gem is tightly held in Little Wood's clutches, 10/25/05
GABRIELS HORN el 11641' It's grunt and pump to this angelic perch, 8/21/05
ANDROMEDA el 11620'~ Out of this world, out of this galaxy, 7/3/06
RECESS PEAK el 11580'~ Total solitude. My vote for Shyest Pioneer, 9/1/06

Rick Baugher
Feb 9,2008