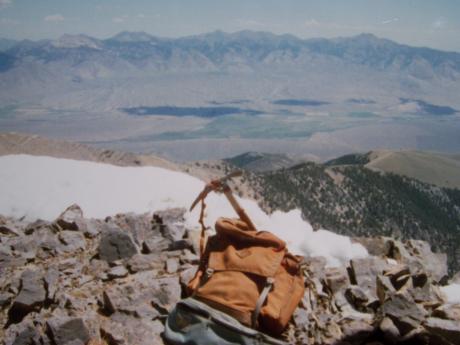 One evening in July 1997 my friend Chuck Ferguson called and asked why
he couldn't find my cairn and register on North Twin el 11081'.
Checking my log book, I realized I had probably forgotten to leave a
record of my visit. This summit photo, dated 6/4/88, is the only record
that I was ever there. View E across Little Lost River Valley to Lemhi
Range- Shril Peak to Saddle Mountain. Photo by Rick Baugher
Shortly after moving our small family to cold, snowy eastern Idaho in January 1980, one of my first mountaineering questions was "Can you see Borah Peak from town?" The answer was, and is, "No". The view is blocked by a set of twin humped peaks in the Lost River Range.
To celebrate surviving our first year in Idaho Falls I spent Dec 31, 1980 climbing King Mountain. The Challis National Forest map showed big blank spaces in the Lost River Range north of here, yet from my vantage point I could see there were some pretty high peaks in this section. What were these peaks? Why weren't they named? How do you get to them? In this manner the hook was set for my exploration of North Twin el 11081' and South Twin el 11070'.
After a several year detour climbing the region's popular named summits, I was ready to get off the beaten path. Once in Elbow Canyon a nice north facing gully with the purest of water leads to the ledgy west ridge and the top of 11081'. I was quite surprised to find no cairn nor any evidence that anyone had ever been here, for this is the highest point of the 'Sunset Section' of Lost River Range.

Rick Baugher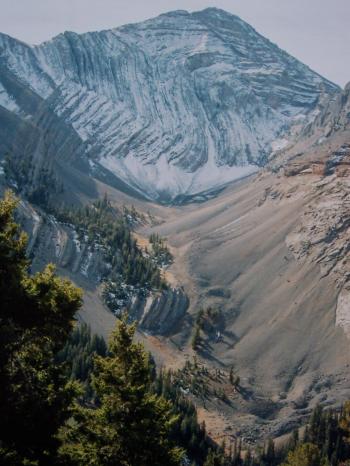 North Face of North Twin Peak, photo by Rick Baugher
This is one of the best core cross sections to be found in the Lost
River Range. It offers a geology lesson on how this mountain range was formed. Bear in mind all this limestone strata was originally formed in the horizontal position on a Paleozoic sea floor. The intact vertical compression folds indicate the rock was heated, compressed, and uplifted over very long periods of time. Shear faults and erosion came later, so that the LRR rock we see today is the equivalent of canned tuna. View to north face of North Twin Peak from upper Elbow Canyon, 10/14/05.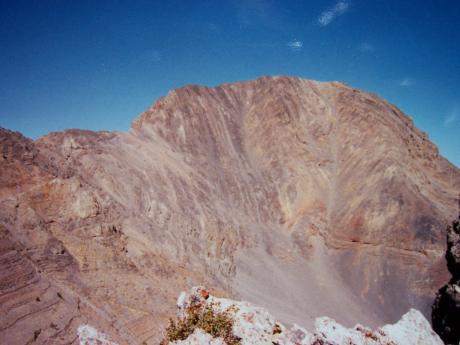 South Twin, photo by Rick Baugher
View N to South Twin el 11070' from main crest Lost River Range,
9/15/90. Using a roundabout approach from Cabin Fork I was hoping for an easy ridge walk to the top. No cigar. Had to drop off 400' into a south facing gully. Luckily it had a nice rock rib on which to friction climb. As far as I can tell this gully is the easiest route on the mountain.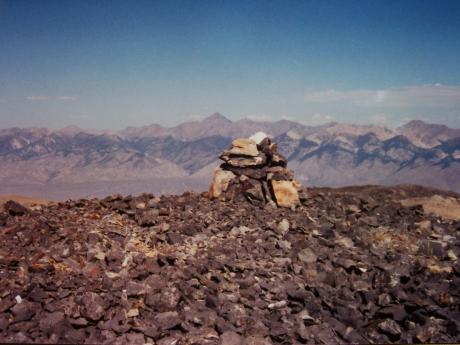 View to the Lemhis, photo by Rick Baugher
I topped out 100 yards SW of the summit. There was no sign of prior visitation. This view is NE to the Lemhi Range, showing pyramid shaped Diamond Peak in center, and Little Diamond Peak at far right. This photo was taken 9/15/90, shortly after not forgetting to build a cairn. I am aware of one other party making this summit, and that was done Summer 2007.