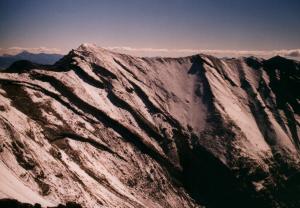 Mount Breitenbach from Donaldson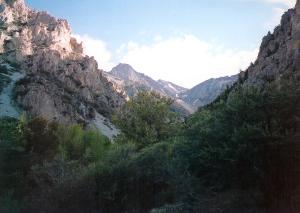 Hiking up Pete Creek drainage, before the hail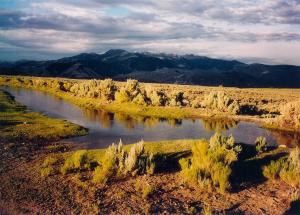 The view from our campsite looking toward the White Knobs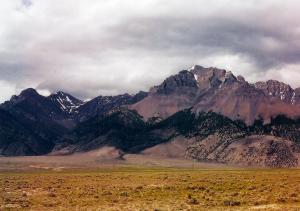 Lost River and Breitenbach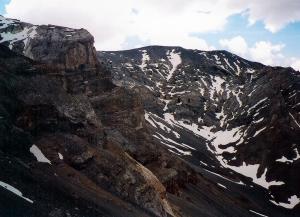 looking up toward the northwest ridge to Lost River Peak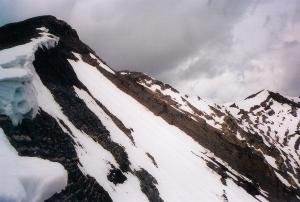 At the saddle between Lost River and Breitenbach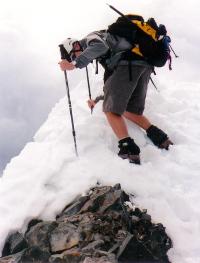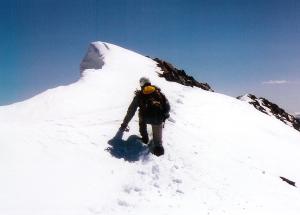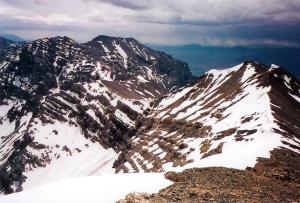 Lost River Peak from the summit of Breitenbach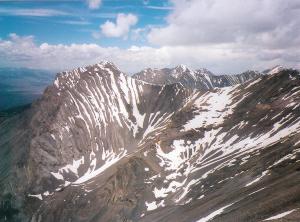 Donaldson and No Regret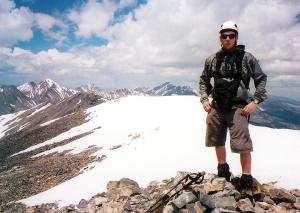 Mount Breitenbach is 12,140 feet, the 5th tallest mountain in Idaho.
Photos by Tad Schafer
South Ridge, Class 3
Access is either via the Pete Creek Road (8.4 miles north of Mackay on Highway 93) or Upper Cedar Creek Road (6.1 miles north of Mackay). We chose the Upper Cedar Creek Road so we could get a good look at the Super Gully route on Lost River Peak. Drive 4 miles northeast on the broad graveled Upper Cedar Creek Road through a fence line and private property, past an abandoned house to a second gate. Once through the gate you will cross a wide irrigation ditch that will require 4wd early in the season, otherwise passable with a car August and later. Take a left after the crossing and then a right in a tenth of a mile and follow the 4wd drive road to the base of the Super Gully. We parked here and then crossed the stream that drains the Super Gully and contoured around the hill into the Pete Creek drainage to the northwest.
The hike up Pete Creek takes you through overgrown brush and trees. Watch out for Stinging Nettle. The climb is gradual as far as you follow Pete creek. Once the creek disappears and the landscape is all rock, the climb steepens quickly. Follow the drainage higher toward the waterfall, angling slightly to the left. At 9600 feet, a right hand turn will take you up toward Lost River Peak. Aim to the right for the saddle between Point 11,534 and 11,898 through loose scree. We began the day with perfect sunny skies, but at this point, just below the saddle, in the scree, we endured a 15-minute hail storm that whitened the ground. We continued to the saddle and were rewarded with views of the expansive Dry Creek drainage. Hike up to Point 11,898, which some may consider a false summit, and then negotiate the class 3 ridge to Breitenbach.
The connecting ridge north leads to No Regret. Donaldson and Church are to the left. Borah is in the far distance.
We had hoped to backtrack to the saddle and negotiate the ridge to Lost River and descend the Super Gully to our vehicle, but dark clouds and lightning persuaded us to return the way we came.