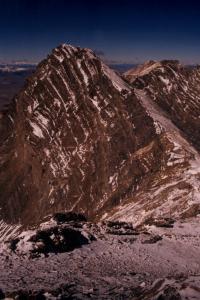 Church from Donaldson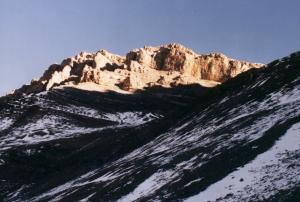 Church at sunrise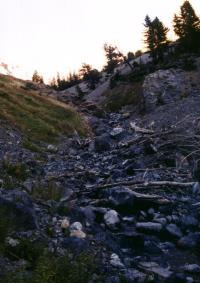 Jones Creek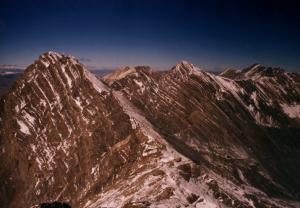 Church, Leatherman, and Borah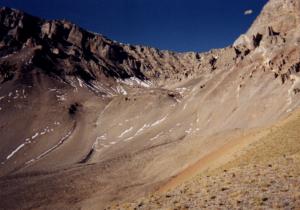 Church and Donaldson ridge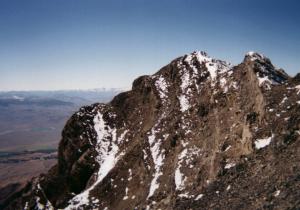 The summit block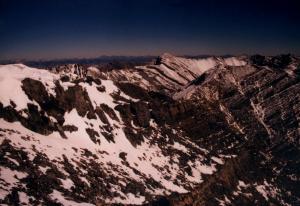 The Donaldson-Church ridge from the summit of Church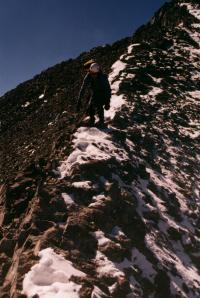 Traversing the ridge from Church to Donaldson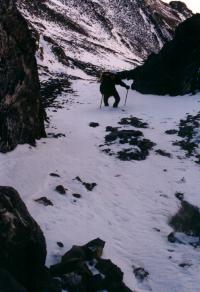 Ascending the snow gully to the ridge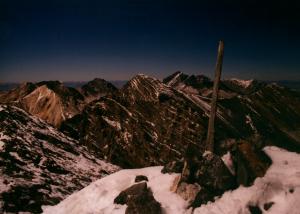 The old axe handle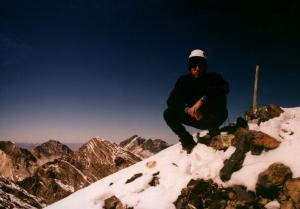 On top of Church
Mount Church sits at 12,200 feet. The southeast ridge is a class 3.
Southeast Ridge
Photos by Tad Schafer
The access to Donaldson and Church is Jones Creek, which is unsigned, leaving US-93 11 miles north of Mackay. A small turnout and cattle guard mark the road. Cross the cattle guard and continue toward the mountains. In 2.1 miles, turn east on a road and continue for 0.4 miles and then turn again toward the mountains. The road becomes rougher as it nears the mountains and the opening of Jones Creek canyon. You will cross a cement trough and metal irrigation pipe. Park next to Jones Creek.
From here follow the Jones Creek bottom on no consistent or apparent trail for approximately 2 miles to 8,440 feet. A huge cirque lies directly ahead guarded by Donaldson, No Regret Peak, and Breitenbach. Watch for a side drainage that waterfalls into Jones Creek. Turn west and climb the hill next to the run-off into the trees and follow the drainage on the right headed for the saddle between Donaldson and Point 10,705. You will cross talus and scree as you emerge above treeline.
Once to the saddle, Mount Church is now visible directly ahead, with Donaldson on the right. Some small campsites are available below the saddle near the springs. Countour around and up to the small pond high in the cirque between Church and Donaldson. The pond is at 10, 800 feet sittin on a small shelf.
From the pond, climb due east toward the large gully. Your goal is the Church-Donaldson ridge. To avoid class 4 climbing in the gully, at the base of the cliffs, head to the right up a talus-ramp and follow a series of talus ramps to the ridgeline just west of Donaldson. From this point, consider taking an extra 30 minutes, round trip, to the top of Donaldson. Proceed to Church on the connecting ridge, staying mostly on top of the ridge, skirting below the ridge at times to avoid exposure. Two small steps involve class 3 climbing with some additional exposure. The going is slow, but worth the time.
Once on top of Church, look for the old axe handle. Leatherman and Borah will be to the north.