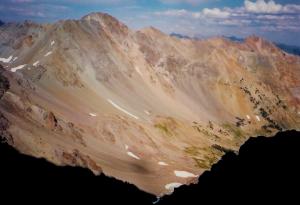 Silver Peak from Peak 11,240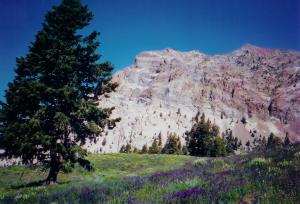 the lone tree as you start up the trail to the lakes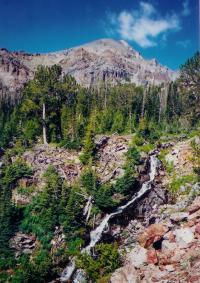 the waterfall from the trail below the lakes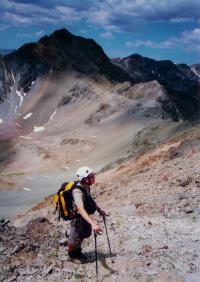 asecnding the talus ramp with Peak 11,240 in the background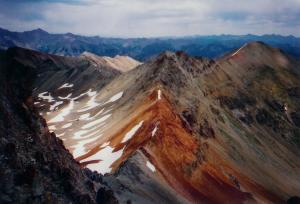 the ridge to Boulder Basin to the southeast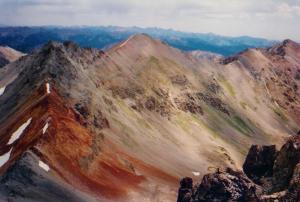 Boulder Basin Peak and Boulder Peak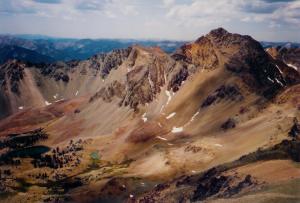 Silver Lake Basin and Peak 11,240 to the northwest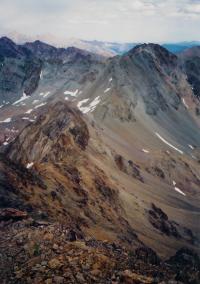 the ridge from Peak 11,240 to Silver (from Peak 11,240)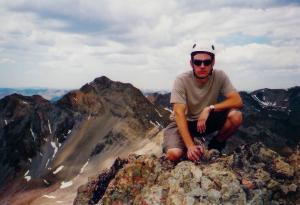 on top of Silver with Peak 11,240 in the background
Silver Peak sits at 11, 112 feet. The south ridge is a class 3.
South Ridge
Photos by Tad Schafer
Peak 11,240 and Silver Peak sit at the head of Silver Lake Basin along the Boulder crest that runs from Galena Peak to Boulder Peak. Access to the peaks is via Silver Lake Basin to the south. To the north is the seldom visited drainage of the South Fork of the East Fork of the Salmon River and views of Castle Peak.
The South Ridge route is a class 3. Turn off of ID-75 15 miles north of Sun Valley at the Silver Creek Road. Follow the dirt road, FS-174, across the bridge and stay right at the first fork. At the second fork in the large meadow, stay right again and follow the tight 4wd road up along the hillside and through trees up onto the bench. The road follows some steep switchbacks up a hill, then descends to a saddle and then to a deadend in some aspens at 8,400 feet. An unofficial trailhead for Silver Lake Basin is located here.
Follow the unofficial unmaintained trail up the hillside past a lone pine tree and into the forest. The trail will be hard to follow at times as it comes to several forks that lead down to Silver Creek. Always take the right fork that will keep you high on the hill side. In 1 mile you will come to a waterfall as the trail switch backs up the hill side. It may be hard to follow, but continue climbing through the cliff lledges as the lakes are a short distance away. In 1.25 miles you will find the lakes.
Continue past the lakes and aim due east for a talus ramp that leads to the top of the south ridge at 10,800 feet. Once on the ridge, continue up the south ridge to the summit encourntering some short sections of class 3. Stay on the west side of the ridge when meeting rock towers. The summit block looks more difficult that it is.
Once on top, Boulder Basin Peak and Boulder Peak are to the southeast. Peak 11,240 is on the connecting ridge to the northwest. Castle is in the distance.
The connecting ridge to 11,240 is passable, but challenging. We pushed mountain goats in front of us as we traversed the ridge and climbed the east ridge of 11,240 and then descended the steep gully back to the lakes. See the route description for Peak 11,240.