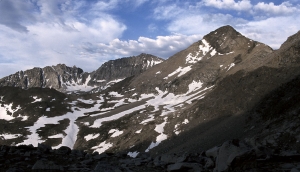 Standhope Peak and Peak 11,887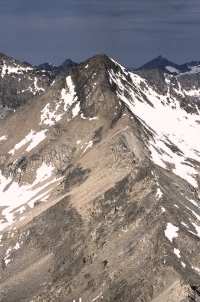 Standhope's noutheast ridge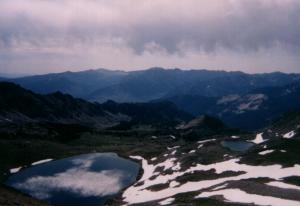 Betty Lake east of Standhope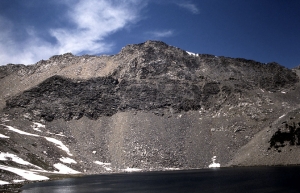 Standhope above Betty Lake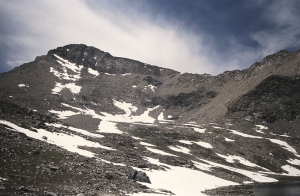 Standhope above Betty Lake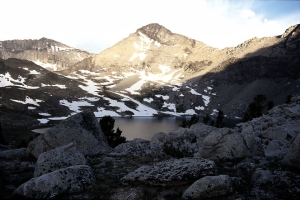 Standhope above Betty Lake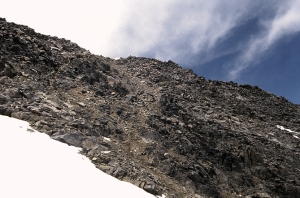 The summit block from the southeast ridge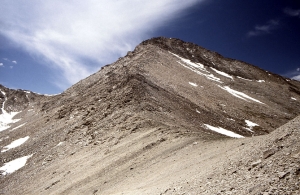 Standhope's southeast ridge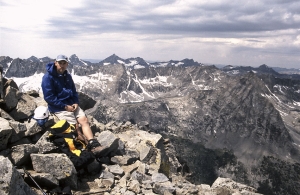 On top with the western Pioneers behind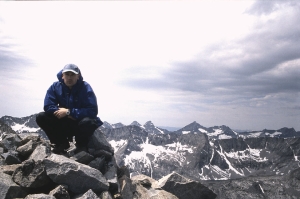 on top of Standhope with Cobb, Old Hyndman, Hyndman, and Goat in the background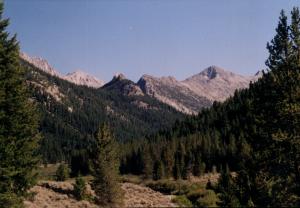 Standhope from Fall Creek
Standhope Peak sits at 11,878 feet. The North Ridge, the Northeast Ridge, and Southeast Ridge are class 3 while the Southwest Ridge is a class 2.
Southeast Ridge
Photos by Tad Schafer
Access to the Southeast and Southwest Ridges is from Copper Basin. Follow the Trail Creek Summit road out of Sun Valley and then turn south on the road signed for Copper Basin and Wildhorse Canyon. Follow the Copper Basin Road for 13 miles into the basin. Take a right onto the Copper Basin Loop Road past the cattle guard. Watch for antelope in the basin. Wolves have also been reported here. Park at the FST-061 Broad Canyon Trail head.
Betty Lake is in 5 miles. You have 2 choices: either stay on the south side of Broad Canyon and follow the unsigned trail to Betty Lake, or cross the creek at the trailhead and follow the signed FST-061 Broad Canyon trail on the north side of Broad Canyon. Both routes provide you with different terrain.
The unsigned trail follows the creek closely the entire route. At the beginning, the trail meanders along the meadows and then crosses the creek and enters forest. In 2 miles is a junction with a trail leading to the White Mountains and the southern section of the Pioneers and Garfield canyon. The trail then begins to climb more abruptly crossing through several meadows before making the final ascent to Betty Lake at 10, 379 feet. Goat Lake, to the south of Betty just over the saddle, at 10,438, is reportedly the highest lake in Idaho. A suitable camp site is by the large boulders next to Betty Lake. Three wolverines were spotted at dusk leaving the lake - a rare site, for only 300 wolverines exist in the wild in Idaho.
To ascend the southeast ridge, continue to follow the trail through large car size boulders toward the saddle between Standhope and Altair Peak. The trail continues over the saddle down into Surprise Valley. From this point Altair is a quick scramble to the northeast. To reach Standhope, drop below the rock structures on the Betty Lake side and traverse the ridge. Once past the rock structures, work your way up the south face of Standhope. To avoid class 4 exposed climbing, either stay directly on top of the southeast ridge, or contour below the summit block to the southwest ridge and ascend the ridge to the summit.
Once on top, admire the rooster comb of Peak 11,887 to the south. Cobb, Old Hyndman, Hyndman, Goat, and the Devil's Bedstead are to the west. Copper Basin is to the east.
To return, the southwest ridge is a quick descent splitting Goat Lake and Betty Lake. Consider taking the left fork just 100 yards downhill from Betty Lake. This is the official FST-061 trail, which will take you to several beautiful small lakes and ponds and descend a forested ridge into the north side of Broad Canyon.