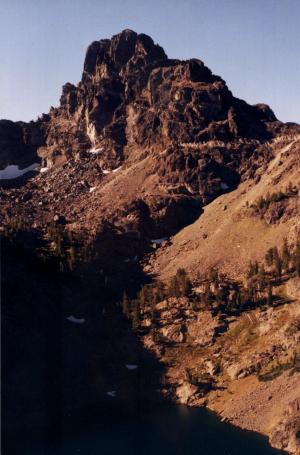 Tower of Babel from the north.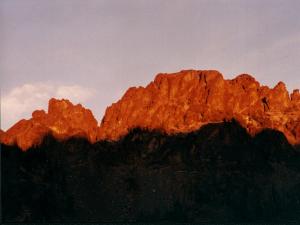 Tower of Babel looking east from Sheep Lake.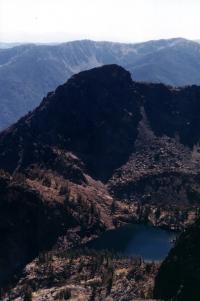 The Goblin from Mt. Baal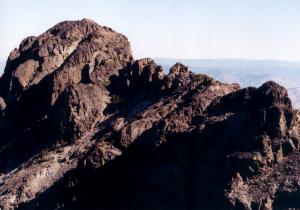 Tower of Babel's south ridge from Mt. Baal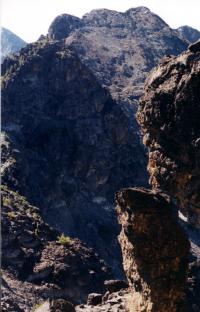 The Devil's thumb on Tower of Babel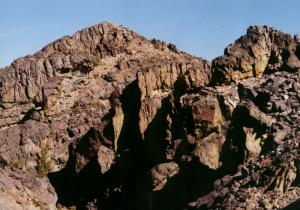 Tower of Babel's summit block from the south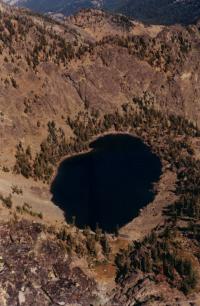 Mirror Lake, looking down from the Tower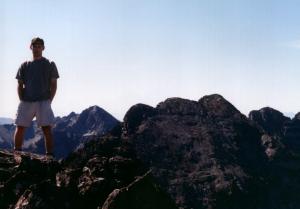 on top of Tower of Babel with She-Devil and He-Devil in the background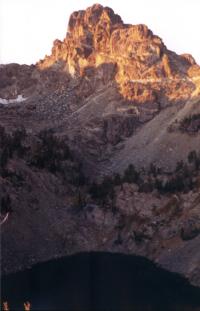 Tower of Babel and Mirror Lake at dawn
Tower of Babel sits at 9,269 feet. Both the Marshall Ledges Route and the South Ridge are class 3.
South Ridge
Tom Lopez calls this climb a top-ten scramble. Access to the Sheep Lake in the Seven Devils Range is described in the He-Devil climb. Ascend the loose col between Mt Baal and She-Devil. Once at the top of the col, look west toward The Goblin and Cannon Lake. Climbing either She-Devil to the south or Mt. Baal to the north is an option.
Once on top of Mt. Baal, descend to the connecting ridge of the Tower of Babel through steep boulders and talus. Once on the ridge, pass the first two towers on the east and then drop down 100 feet on the west side of the third and fourth towers. Side-hill along the talus toward what looks to be a dead-end at a wall. Ascend ledges up the steep wall to the knife-edge notch. Mount the boulder learning against the wall of the notch to reach the steep slabs above. Follow the slabs up to and under a large overhanging roof and past what looks like a large thumb. A small talus slope provides access to the summit.
Once on top peer down onto Sheep Lake to the west and Mirror Lake to the north.